Welcome to Cheltenham Scouts
Cheltenham Scouts make young people ask the big questions, have an open mind and think for themselves. Make them stick at it, think on their feet, muck in and give it a go-ers.
We're Scouts and everyone's welcome here. All genders, races and backgrounds.
At Scouts you get the skills you need for school, college, university, the job interview, the time you give first aid. The skills you need for life.
4-6 Year Olds
This new section for our early years members
6-8 Year Olds
Learning new skills and making friends
8-10&1/2 Year Olds
Learning practical skills for adventures with friends
10&1/2-14 Year Olds
Exploring the community and worlds with adventurous activities
14-18 Year Olds
Take the lead, explore new challenges & make a difference
18-25 Year Olds
Inspire others developing your skills and lead others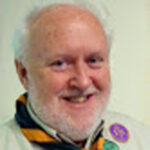 Our District Commissioner leads the senior volunteer team and provides support to all members in the District. He supports sections through their group scout leaders, ensures that training occurs and creates opportunities for all.
District Youth Commissioner – Vacant
Our District Youth Commissioner directly supports the District Commissioner to ensure that they act with the views of young people in mind all of the time. They support the entire district and provides direction for young people to shape their entire Scout journey.
This role is currently vacant and if this is of interest to you please get in touch